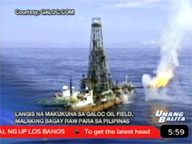 In a regulatory filing, Nido Petroleum explained that based on the final results of the detailed geochemical analysis conducted earlier this year, the traces of liquid hydrocarbons detected in the cores have been derived from mature oil- and gas-prone source rocks similar to the nearby Malampaya field.
The liquid hydrocarbons were also found to be of a similar composition to those which are interpreted to have generated the hydrocarbons discovered in the shallower waters of the Northwest Palawan continental region.
More from the source..
So, it seems that we will be having more access to petroleum. I wonder, when will the country be self sufficient and avoid throwing lots of foreign currency just to buy oil from foreign suppliers. I hope that it will be very very soon.